ROCK around JIN AKANISHI
We finally met him...! The jump from Akanishi Jin to the world's JIN AKANISHI. At our meeting at LA, no matter the location, he is still a dazzling and sexy artiste.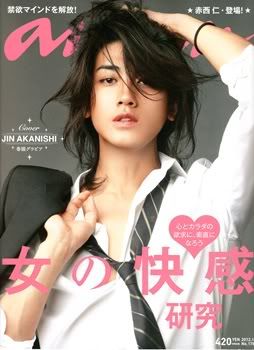 "Year 2012 would be a year where what I've been working hard at as JIN AKANISHI takes shape and is shown to the world. I think this year is one that results (of the hard work) would be shown. I hope the anan readers would also look out for my work. Though it might appear that I have not been actively doing anything, but I have actually been working. (lol)."
His first American single "TEST DRIVE feat . JASON DERULO" was on sale in November last year, and the mini-album achieved first place on the US iTunes dance album charts. This year, there are plans to release his first America album. On this land called LA, Akanishi Jin-san personally arranges his own way of comfortably doing his work and his way of lifestyle to his liking.
"I'm someone who's really scared of loneliness so I usually stay in contact with my friends. I also miss Japanese food... Now, with my 1LDK* flat as the central point, I have already gotten used to my life here. The weather is like summer here everyday, and so I'm normally in short pants and on days where the weather is really good, I will go for drives. When I go to play at clubs, I would understand the recent trends in music, and that is a form of learning."
Taking actions, and getting what makes him feel happy or what makes his heart at ease is something that comes natural to Akanishi-san.
"It seems like this thinking came naturally to me. But, I'm sure no one wants to be keep staying at someplace where their hearts are not comfortable with. Everyone aims to take action and be at a place where it feels good for oneself right? Being honest with your own feelings, try to convey what you want to say without giving up is enough. There are things that you can get after you convey your thoughts, there are also things that you have to reconsider slowly. In this way, I think the world becomes much wider."
*1LDK=1 Living area, Dining area, Kitchen area.
--------------------
Looking forward to seeing what would unfold this year~
And it's nice to read Jin's advice about pursuing what you really want and what makes you happy. :) Hopefully it's good advice to everyone of us. Being honest, and try to convey what you think without giving up!
Happy new year everyone! ♥
Current Mood:

awake